Preparing for Your Trip
Love Your Feet!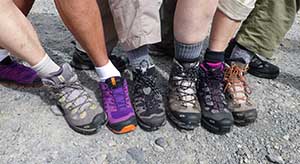 HIKING BOOTS are advisable for any hike, which passes over rough, uneven terrain. They provide protection and support for the feet and ankles, help keep your feet dry in wet, marshy areas and give traction on wet rocks, hills and uneven surfaces. Look for boots that have a good, lugged (deep pattern) sole. The more stitching a boot has, the more places there are for this stitching to give way and let in moisture. Boots should be high enough to cover, support and protect your ankles. There should also be ample space in the toe box so your toes don't get crunched on downhill treks.
Never wear new boots for the first time on a hike! Break them in by wearing them around the house, in the local shopping mall, over to the park etc. Look after them by washing off the mud after each hike, leaving them to dry overnight - this will keep them in good condition and make them the envy of other hikers.
SOCKS - Some people wear 2 pairs with hiking boots - a thin pair (polypropylene or acrylic) to wick moisture away from the feet, and a thick, woolly pair to absorb this perspiration and provide cushioning. Good hiking socks are a worthwhile investment as they provide the best cushioning and wicking properties for long hikes.
Packing for Your Hike
PACKS should have padded straps to prevent them digging into your shoulders and be big enough to carry the items listed below.
WHAT YOU SHOULD TAKE ON ANY HIKE - sweater, rainwear, litre-size water bottle, bug repellent, hat, gloves and several supermarket-type plastic bags (to sit on at lunch, to carry any garbage left over from your lunch, to keep items dry in your pack when it rains etc.) Keep a spare T-shirt in your pack and change into it if your original one becomes wet with perspiration or from a sudden shower.
Smart Hiking
During the hike, keep an eye on the trail markings. If you don't see any for several minutes, you may well have missed a turn and are rapidly becoming lost. In that case, TURN AROUND and retrace your steps until you find the trail. If you should visit the "Washroom in the Woods", please take off your pack and leave it on the trail or in the vicinity of the group at a rest stop. Then we'll be aware that you have left the group and will await your return before moving on.
ALWAYS LOOK BACK! Whenever you get up from sitting on the ground at lunch or at a rest stop, look back to ensure you have not left behind your hat, sunglasses, camera etc.