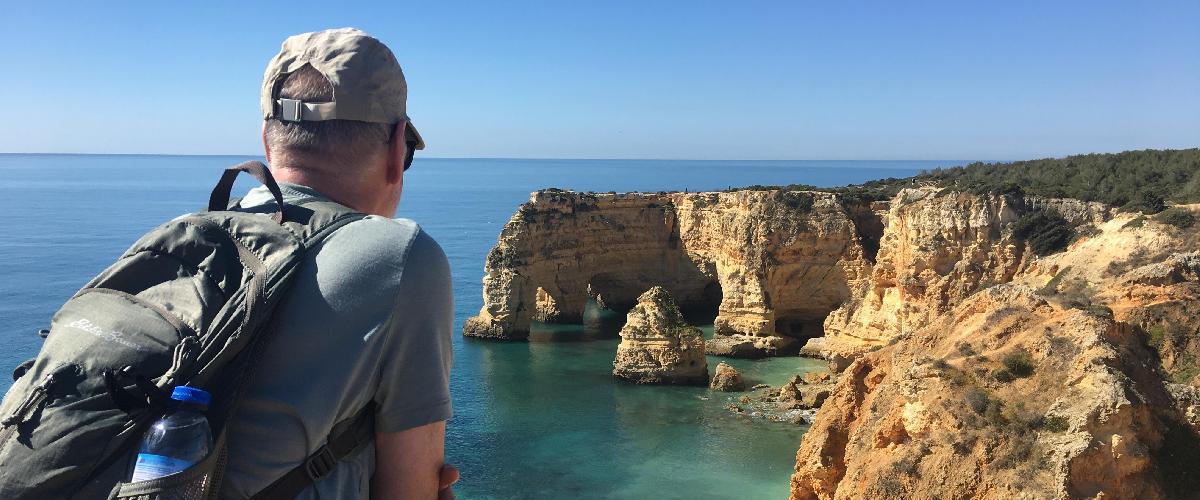 "The hikes were just right, enough of a challenge to feel properly exercised and to justify a little indulgence at dinner. The restaurant choices were delightful, and the food always interesting and well-prepared. You do wonderful work, curating these experiences. I thank you again for all the pleasure I had from them."
Rowan S. (Portugal 2019)
Portugal - 1
With charismatic towns, kilometres of coastal walking trails, glorious beaches, 14 incredible UNESCO sites and an enticing cuisine, Portugal is Europe's hottest destination, and THE best place to spend the long month of March.
Our hiking holiday centres around two main areas – the Lisbon Coast and the Algarve.
Our journey begins on the Lisbon Coast in the town favoured by Portuguese royalty – Cascais (also known as the Portuguese Riviera). Located about 30km west of Lisbon, this calm and charming beach town serves as our home base for the first week, where we'll be staying at the HOTEL BAIA in the historic centre and within easy walks of the Museum District, restaurants and several key attractions. The real attraction though is the Sintra-Cascais Natural Park, which includes the Serra da Sintra mountain range, at least 7 castles & palaces, ancient monasteries, botanical gardens, the best surfing beach in Europe, and Cabo de Roca – the westernmost point of the European continent, where it was once believed that the land ended and the sea began.
We have woven together a collection of hikes that really puts this area on stunning display – from coastal trails alongside the roaring Atlantic, to vistas high above the sea, and through the tranquil forested trails from village to village – you will come away with a true appreciated of this magnificent area.
On the leisure day, you can visit the historic town of Sintra for an incomparable castle tour that includes the Moorish castle and the technicolour Pena Palace. Alternatively, Lisbon is only a short train ride away. Did you know that Lisbon is being hailed as the "new" Paris?
Then it's on to week two of our adventure, making our way south to the glorious Algarve region of Portugal. The "WOW" factor is huge here, and it's not difficult to see why - golden beaches framed by limestone rocks, simple seaside restaurants, and more sunny days than anywhere else in Europe. We'll be based in the pretty town of Lagos; our chosen hotel being the MARINA RIO, perfectly located on Lagos' marina and a mere 5-minute walk from the main square.
The coastal trails are the star attraction here, with more than their fair share of natural wonders. But no two coastal trails are alike; the scenery and the geography is ever-changing; a fantasy of caves, grottos, sea arches and sink holes that have been sculpted over thousands of years. Likely the most famous of which is Ponta da Piedade, right in Lagos. But given that we're hikers, we had to also include the highest peak in the Algarve – Foia, rising just over 900m. Given its location, you can just image how rewarding the views will be!
And if you happen to be a hiker who loves great food, then know that Portugal is emerging as a real foodie destination. The fish is fresh and plentiful, as are the "pastel de natas", and house specialties like piri-piri chicken is mouth-watering. Oh, and the wine! Portugal is amongst the 10 largest wine-producing countries in the world, and port is considered one of the world's greatest.
Dates

March 9 to 21, 2020

Grade

Moderate

What's Included

- 12 nights' hotel accommodations
- 12 breakfasts, 2 lunches & 8 dinners
- 8 guided hikes
- All entry fees for attractions per itinerary
- Ground transportation and transfers

Cost

$3535 CAD land

Send $300 deposit to reserve - balance is payable January 7, 2020

My Own Room

If you would like to share accommodations, we offer a roommate pairing service. If there is another solo traveller looking to share accommodations, we will pair the two of you up together; in this case there would be no single supplement to pay.

If you would like to have your own room (or if a roommate is not available), then the single supplement would apply.

The cost of the single supplement for this holiday is $750 CAD.

Meeting Times/Places

March 9, 2020
The meeting place and time is the LISBON (LIS) airport at 12:00 (noon)
We have organized our own bus to take us from the Lisbon airport to the hotel in Cascais, which is about 1 hour away
If you arrive before that, you are welcome to wait for our complimentary bus to Cascais. Alternatively, you could make your own way to Cascais. A taxi will cost in the neighbourhood of about 40€.
If you arrive after this time, you will have to make your own way to Cascais. A taxi will cost in the neighbourhood of about 40€.


March 21, 2020
Our complimentary bus will leave the hotel in Lagos at 10:00 and will arrive at the LISBON (LIS) airport at 15:00.
This will get you to the airport early enough to catch flights leaving at 17:30 and onwards.
Earlier departures from Lisbon are not advisable as it is 4+ hours from Lagos to Lisbon. Alternatively, you could leave from the airport in Faro (FAO), which is only 1 hour away from Lagos, but you would have to organize your own airport transfer. A taxi from Lagos to Faro will cost in the neighbourhood of 65€


Status

This trips is full but we would be pleased to add your name to the waitlist.
Daily Synopsis

Map

Photo Gallery

Accolades

Waitlist

Terms & Conditions
Daily Synopsis
Day 1

BEM-VINDO AO PORTUGAL!

Day 2

INHOSPITABLE COAST
Introducing the formidable western coast of Portugal. From Malveira, dirt tracks lead us over the hills as we get our first glimpse of the coastline. Then a lovely balcony walk puts us side-to-side with the Atlantic as we make our way to Guincho Beach. From here, we walk along the rocky coast all the way to Casa Guia, Boca do Inferno and eventually back to Cascais! (Light-moderate, 16 km)

Day 3

HIKE OF THE BARKING DOGS
Beginning again in Malveira but going in a completely different direction, inland and away from the coast, passing through the local communities of Janes and Zambujeiro, until we arrive at Quinta do Pisao, a working farm with horses, goats, vegetable gardens and beautiful walking paths. (Moderate, 15 km)

Day 4

DAY OF LEISURE
Here is your chance to go exploring. You could hang around Cascais or visit the historic town of Sintra. Alternatively, Lisbon is only a short train ride away.

Day 5

CABO DA ROCA
Cabo da Roca is a wild and rugged headland that marks the most westerly point of mainland Europe. Here begins our day. This circular hike will take us first to Praia de Adraga, and then along the cliff tops to the staircase leading down to Praia Grande. Our trail then heads inland through the towns of Almocageme and the picturesque Ulgueira before returning to Cabo da Roca for one last breath of sea air. (Moderate, 14km)

Day 6

SITES OF SINTRA NP
We begin at the Santuario da Peninha for spectacular views over the entire Sintra coastline. From here, we follow dirt tracks to the Convento dos Capuchos, originally built in 1560 to house friars who lived an incredibly cramped and spartan life. Then to Monserrate Palace - one of the most beautiful architectural and landscaped Romantic creations in Portugal. The hike continues in the direction of Pena Palace for a lovely ending descending along the picturesque Via Sassetti into the outskirts of Sintra. (Moderate-challenging, 12 km)

Day 7

TRANSFER DAY - CASCAIS TO LAGOS

Day 8

CABO SAO VICENTE
The Rota Vicentina is Portugal's west coast long distance trail, the last 14km of which go from Vila do Bispo to Cabo Sao Vicente, Europe's south-westernmost point. The cliffs are monumental and the views outstanding. (Light-moderate, 14 km, all exposed, windy)

Day 9

SEVEN HANGING VALLEYS
Formed over millions of years, the cliffs along this coast dominate the Algarve's landscape with caves, grottoes, secluded bays and huge sink holes providing some of the most spectacular scenery around. The trail begins in Praia de Marinha and ends in Vale Centeanes. This hike is the quintessential Algarvian experience! (Moderate, 7 km, undulating)

Day 10

DAY OF LEISURE
Lagos is a historic and lively city and worth exploring. It is steeped in history, and the variety of historical monuments and buildings reflect this.

Day 11

MOUNT FOIA
At an elevation of 902m, Mount Foia is the highest mountain in the Algarve. Our starting and ending point is the mountain village of Monchique. At the outskirts of Monchique is the ruins of the Convento Nossa Senhora do Desterro, and at the top of Foia is an artisan market, showcasing the areas handicrafts and outstanding views of the surrounding mountains. (Moderate-challenging, 10 km, 345m ascent & descent, options available)

Day 12

BURGAU TO LAGOS
One last coastal hike! A dirt trail connects the town of Burgau to Praia da Luz, like a red carpet over the steep hills; you'll be charmed by the amazing views of the ocean and the landscape. More trail, more cliffs, more amazing views until we reach the Ponta da Piedade, considered THE finest natural feature in the Algarve. (Moderate, 15 km, not vertiginous)

Day 13

TCHAU PORTUGAL!
Interactive Trip Map
Click on the interactive map to see where we'll be hiking.
Select satellite view to get even more detail.
Photo Gallery
We have some great photos of previous tours of this location.
Click on the photo gallery link to view the gallery.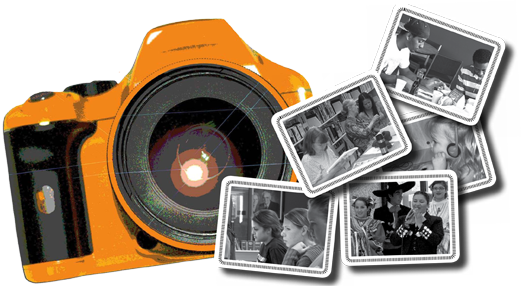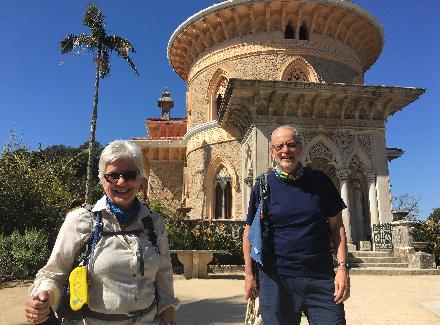 What an experience!
"The hikes were just right, enough of a challenge to feel properly exercised and to justify a little indulgence at dinner. The restaurant choices were delightful, and the food always interesting and well-prepared. You do wonderful work, curating these experiences. I thank you again for all the pleasure I had from them."
Rowan S. (Portugal 2019)
"I have no doubt that Portugal will become a signature destination in your portfolio, it was fantastic. The posted daily shots, photo album and group photos clearly evidence the incredible scenery and trails, cultural and culinary experiences, and the camaraderie and kindness of a wonderful group of people --- none of which could have been realized without your planning and leadership."
Carol T. (Portugal 2019)
"Michael and I thoroughly enjoyed this trip! Thank you for all your planning ... the terrifically located and lovely accommodations, the spectacular sights and amazing historic places amongst our hikes, and of course, your order for fantastic weather! Love your leadership and the pure and simple fun! Great traveling with you both!"
Linda D-M. (Portugal 2019)

Make a Reservation
We're so glad you've decided to take a trip with us! We will do our very best to ensure you have a great time. Thank you for your business and we look forward to seeing you.
Please fill out the registration form below.
It is important that you read the Terms and Conditions before completing this form.
Note that this trip is currently full but you can complete the registration form to get your name on the waitlist.
Terms & Conditions
RESERVATIONS AND PAYMENTS
A non-refundable deposit is required at the time of booking (see individual trips for amount required for deposit). The balance is due 60 days prior to departure unless otherwise specified. Late payments causing penalties to be levied by the airlines or any other supplier shall be the responsibility of the traveller.
Reservations are to be made online. We accept E-interac transfers (Canadian funds only), credit cards and personal cheques (payable to Comfortable Hiking Holidays). If paying by cheque, mail cheque along with a reservation form to:
Maddalena Molino
Comfortable Hiking Holidays
251 Consumers Road, 7th floor
Toronto, ON M2J 4R3 Canada
6079113 Canada Inc., doing business as Comfortable Hiking Holidays, is an independent travel affiliate with Vision Travel DT Ontario-West Inc., a Canada corporation registered under the Ontario Travel Industry Act, 2002 Registration Nos. 50023501 and 50023502.
CANCELLATIONS
All deposits are non refundable. After the balance has been paid, a refund can be made (less $50 per person and less any incurred charges by hotels, airlines etc.) if YOU can find a replacement person. If no replacement is found then all monies paid will be forfeited. No refund for any unused portion of a trip. All cancellations are only considered to have been received on the date of receipt of written cancellation in the office of Comfortable Hiking Holidays.
AIRFARE
In order to allow for greater flexibility and competitive pricing, Comfortable Hiking Holidays does not offer group airfare for its trips. However, we will gladly book your airline tickets on an individual basis. We can accommodate any itinerary that suits you and from any city, including stopovers.
Comfortable Hiking Holidays will provide a meeting time and place for each trip. It is your responsibility to ensure that you coordinate your schedule to fit with the trip's itinerary, and we will be more than happy to help you with this so that you can take advantage of transfers between airports and hotels together with the group.
Do not book your airfare until you check with Comfortable Hiking Holidays that we have the minimum number of participants to move ahead with the trip. Comfortable Hiking Holidays is not financially responsible for additional expenses incurred by you (such as non-refundable airline tickets) should a trip be cancelled.
Call us to discuss and we will tailor your flights to meet your needs.
TAXES
H.S.T.
The Harmonized Sales Tax will be added to all trips taking place in Canada.
INSURANCE
Medical and cancellation insurance is STRONGLY RECOMMENDED and can be arranged through our offices. See the Reservation Form. If insurance is declined, a signed form will be required. Note that health insurance is mandatory for travel to Cuba; travellers must present proof of health insurance in order to enter the country.
TRAVEL DOCUMENTS AND HEALTH REQUIREMENTS
It is the traveller's responsibility to determine what documentation is necessary for each country to be visited. All Canadian and U.S. citizens require valid passports for travel. It is recommended and sometimes necessary that passports have a minimum of 6 months to expiry. Other nationalities should check with Comfortable Hiking Holidays. For more information on travel requirements per country, visit www.voyage.gc.ca.
It is imperative that the traveller discloses to Comfortable Hiking Holidays any medical condition(s) that may affect his/her ability to complete the hike and/or tour. Examples include (but are not limited to): allergies, ailments, diseases, medical conditions, special diets, medications and so forth. This information will be kept strictly confidential.
Our leaders are well trained to deal with different capabilities, but if they have any concerns about someone's ability to safely partake in an activity, or their impact on other people's enjoyment, they are authorized to take necessary action which, in some circumstances, may involve asking someone to miss that activity. Although rarely enforced, by booking this trip you agree that our leaders have the authority to do this. In these circumstances we will ensure anyone sitting out is safely provided for and offered alternative options where possible. Refunds will not be provided for activities missed and customers may be responsible for additional costs incurred.
In booking this trip, you should be confident in your ability to participate in all activities described. If you have any doubt about your abilities, please call us to discuss.
FOREIGN EXCHANGE
Prices are quoted are in CANADIAN DOLLARS (with some exceptions which are quoted in USD). They were calculated based on the exchange rates at the tme of publishing and are subject to change without notice. Should tour costs increase, Comfortable Hiking Holidays reserves the right to increase the price accordingly. If the price change is more than 7% of the total price for the travel services (except for a price change that is a result of Government Taxation), you are entitled to cancel if you wish, with full refund. You must notify us of your intention at least 48 hours after notification or if the change is a last minute change, within 24 hours of notification.
ACCOMMODATIONS
Prices quoted are for shared accommodations (two to a room). A roommate (of the same sex) will be arranged when possible, otherwise the single supplement will apply. Single rooms are available on most holidays; cost for the single supplement is available on request.
PHOTOGRAPHS
The scenery is always picture-worthy so please take as many photos as you wish. We will do the same, but please note that it is customary for us to use photographs taken on actual hikes for our promotional materials. If you do not wish to have your photo used in any of our promotional materials, please inform your hike leader at the BEGINNING OF THE TRIP.
SMOKING
As the great majority of trip participants do not smoke, those who do are requested to refrain from smoking while with the group (e.g. on the bus, during the hikes, at meals, in the bar and in your room if sharing with a non-smoker).
CHILDREN
All participants must be at least 18 years of age.
SITE ACCURACY
Comfortable Hiking Holidays has attempted to make this site accurate. However, changes might occur for reasons beyond the control of Comfortable Hiking Holidays. In addition, the right is reserved to substitute hotels or change the itinerary when necessary, provided the travel facilities or other services are of at least the same standard or value.
HIKE LEADERS
All of our leaders are experienced hikers and have had first aid training. A representative of C.H.H. will accompany all of the trips (unless otherwise specified) to ensure they run smoothly and efficiently. Our hike leaders will be your guides on most holidays, but in some cases we will use local guides. C.H.H. reserves the right to make changes in hike leaders when necessary.
FORCE MAJEURE
Neither Comfortable Hiking Holidays nor Vision Travel shall be liable for any claims, losses, damages, costs, expenses, delays or loss of enjoyment of any nature or kind whatsoever, resulting from events beyond their control or a supplier's reasonable control, including but not limited to acts of God, strikes, lockouts or other labour disputes or disruptions, wars, blockades, insurrections, riots, terrorist acts, fire, earthquakes, weather conditions, storms, hurricanes, flood, civil or military authority, government requirement or restriction, disease, epidemic or pandemic.
OPERATOR'S RESPONSIBILITY
Comfortable Hiking Holidays and Vision Travel the operators, its agents, and/or suppliers of services act only as agents for the traveler and accept no responsibility for services of any hotel, aircraft, vessel, train, motor coach or any other conveyance used in connection with these tours, nor any delays, loss or accident to travelers or baggage occasioned by such services, from whatsoever cause. In the event it becomes necessary due to changes by supplier's airlines, or for the comfort or well being of passengers, or for any other reason, to alter the itinerary or arrangements, such alterations may be made without penalty to the operator. The extra cost, if any, resulting therefore, shall be paid by the tour members. Conversely, refunds will be made to passengers if any savings are effected thereby. The right is reserved to cancel any tour and to decline to accept any person as a member of the tour, at any time. Acceptance of the initial service to be provided under the tour shall be considered an acceptance of all these conditions. There may be different living standards and practices and different standards and conditions with respect to the provision of utilities, services and accommodations outside Ontario. Climate conditions may affect the provisions of services and the accommodations included in our tours. Accommodations offered in the tour are, to the best of our knowledge, available at the time of printing and accurately described.
AIRLINE CLAUSE
The airlines concerned are not to be held responsible for any act, omissions or event during the time the passengers are not on board the aircraft. The Passenger Ticket in use by the airline(s) when issued constitutes the sole contract between the airline(s) and the purchase of the ticket and/or passenger.
Although every precaution is taken for your safety, this type of excursion involves, by its very nature, a certain amount of risk. All participants are therefore required to sign a form releasing Comfortable Hiking Holidays and Vision Travel of all liability.