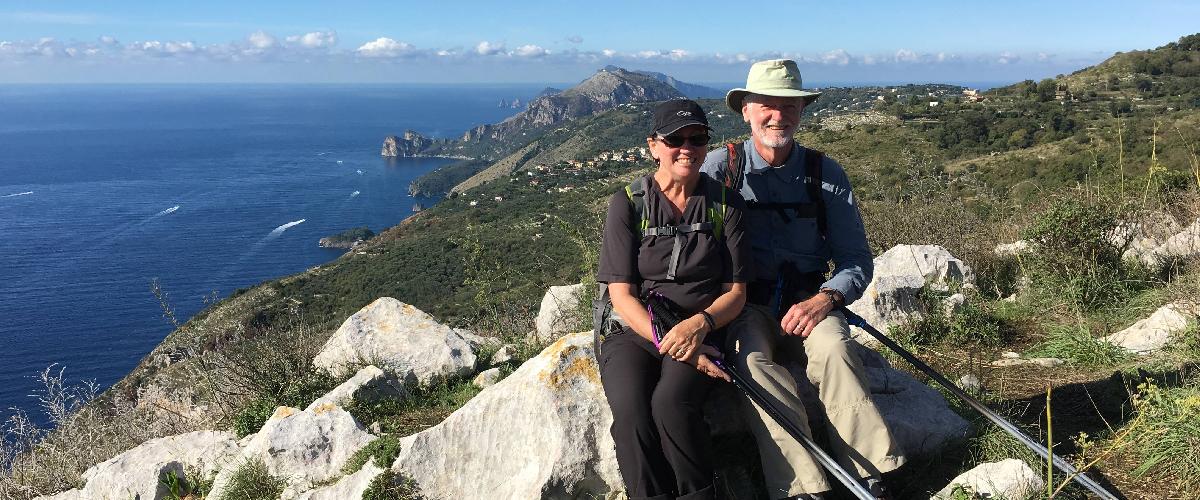 "Our 12 day Amalfi hike was amazing. Thank you Maddalena Molino and Comfortable Hiking Holidays. How lovely it was to be guided through the diverse, daily hikes along pathways and coastlines, through alleys and olive groves, up and down stairways and on chairlifts, to be educated about the area, to be whisked off to unforgettable meals, and to be given a day or two of leisure. (wasn't it all leisure?)."
Janet P. (Amalfi 2017)
Amalfi Coast, Italy - 1
This is Southern Italy at its best. Bathed in sunshine, surrounded by sapphire-blue waters and offering panoramic vistas in every direction, Italy's Amalfi Coast has a monopoly on beauty.
The town of Sorrento is the ideal home base for this holiday, offering easy access to all the sights we wish to see. Our hotel, the GRAND HOTEL LA FAVORITA, is located in the historic quarter of Sorrento, just steps from the town's main shopping area and notable sites, and you will have plenty of opportunities to enjoy a gelato or an espresso at a corner cafe. We'll hike the trails high above the town as they meander amongst the lemon groves, through the tiny alleyways of farming villages, and along the coastal paths that are famous in this region. Naturally, we shall hike the aptly-named "Pathway of the Gods" culminating in a view of Positano most only see in postcards. The "Amalfi Drive" along one of the most famous stretches of coastline will undoubtedly be a highlight as well. This "road of 1001 turns" is a little like a roller-coaster ride, and although you might be tempted to close your eyes, the scenery will force you to keep them open! The reward, of course, is that this road leads to the picturesque towns of Positano and Amalfi.
From Sorrento, we shall take a ferry to join the glitterati on the posh island of Capri, where our hikes will take us to the enigmatic Faraglioni Rocks and the natural wonder of the "arco naturale" plus give you a chance to visit the "grotta azzura". The family-owned CANASTA HOTEL, just a short walk from the "piazzetta" will serve as our own private oasis.
Our holiday concludes with a tour of Pompeii to witness the destruction inflicted up on it by the infamous Mt. Vesuvius. Amazingly, much of the town remains as it was on that fateful day of August 24th 79 A.D. The Amalfi Coast has won the hearts (and stomachs) of many, so join us for 2 weeks of "dolce far niente".
Dates

April 9 to 21, 2018

Grade

Moderate

What's Included

- 12 nights' hotel accommodations
- 12 breakfasts, 2 lunches, 8 dinners with wine
- 7 1/2 guided hikes
- Tarantella Show
- Guided tour of Pompeii
- Ground transportation and transfers

Cost

$4155 CAD land

Send $300 deposit to reserve - balance is payable February 7, 2018

My Own Room

If you would like to share accommodations, we offer a roommate pairing service. If there is another solo traveller looking to share accommodations, we will pair the two of you up together; in this case there would be no single supplement to pay.

If you would like to have your own room (or if a roommate is not available), then the single supplement would apply.

The cost of the single supplement for this holiday is $700 CAD.

Group Airfare

In order to allow for greater flexibility and more competitive pricing, group airfare is not available for this holiday. However, we will gladly book your airline tickets on an individual basis. We can accommodate any itinerary that suits you and from any city, including stopovers. Call us to discuss and we will tailor your flights to meet your needs.

Status

This trip is full but we would be pleased to add your name to the wait list.
Daily Synopsis

Map

Photo Gallery

Accolades

Waitlist

Terms & Conditions
Daily Synopsis
Day 1

BENVENUTI IN ITALIA MERIDIONALE
Upon arrival, our bus will take us from the Naples airport to the hotel in Sorrento.

Day 2

PUNTA CAMPANELLA
We walk from our hotel to Massa Lubrense and then on through the small farm villages to Termini. From Termini, a track leads us down to the lighthouse at the extreme tip of the Peninsula, Punta Campanella, which separates the Gulf of Naples from the Gulf of Salerno. (Moderate-challenging, 9 km + optional 5 km, drop-out points available)

Day 3

VIA DEI MONTI LATTARI
The Lattari Mountains form the backbone of the Sorrentine Peninsula. We hike along the coastline west of Colli di Fontanelle all the way to Sant'Agata. From Sant'Agata, it's a lovely downhill walk to Sorrento. (Moderate-challenging, 9 km + optional 3km)

Day 4

DAY OF LEISURE
What a perfect day for you to explore Sorrento. It has some very worthwhile sites to see like the Marina Grande, Sedile Dominova, Piazza Tasso, numerous churches and squares, and more. Did we mention that Sophia Loren filmed the movie "Scandal in Sorrento" here? Plus you'll undoubtedly enjoy getting lost in the labyrinth of alleyways around Via San Cesareo and Corso Italia.

Day 5

SENTIERO DEGLI DEI - POSITANO
Today we hike the aptly named Sentiero degli Dei - the Pathway of the Gods - from Agerola to Nocelle. This is the region's most famous mountainside trail. And from Nocelle, it's just a "short" 1000+ steps down through terraces and olive groves to get to Positano. (Moderate-challenging, 11 km, undulating)

Day 6

IERANTO
Our hike begins in Sant'Agata Sui Due Golfi, through Termini, and descends to the clear waters of Ieranto (a World Wildlife conservation area). You will have the Bay of Ieranto to one side and the Gulf of Salerno on the other; just imagine the views! (Moderate, 10 km)

Day 7

DAY OF LEISURE
You may choose to take the train to Naples or Vesuvius today or alternatively, we can help the group arrange a bus to visit "La Bellissima" Ravello.

Day 8

AMALFI
Amalfi, Italy's first maritime republic, is the centrepiece of today's hike. Beginning at Duomo di Sant'Andrea, we meander from Amalfi to Atrani and then up to the village of Pontone where lunch will be waiting. After lunch, we descend from Pontone back to Amalfi along the Valle dei Mulini. (Moderate-challenging, 11 km, 1000 ft ascent/descent)

Day 9

TRANSFER FROM SORRENTO TO CAPRI
This morning, we ferry from Sorrento to Capri. In the afternoon, we walk from the Piazza Umberto to the Arco Naturale, and then a coastal path takes us past the famous Faraglioni islands (Capri's most iconic feature) all the way back to our hotel. (Moderate, 4 km)

Day 10

BELVEDERE MIGLIARA
Our day begins with a chairlift to the top of Monte Solaro. The hike begins here! The trail follows the crest of the cliffs overlooking the sea. We shall stop at a well-known restaurant nearby for lunch before continuing our hike to Anacapri. Once there, we shall tackle the Phoenician Steps down to Capri's Marina Grande. (Moderate, 8 km, 1300 + 960 ft of descent)

Day 11

SENTIERO DEI FORTINI
The Sentiero dei Fortini is a lovely coastal walk along the west side of the island from the lighthouse at Punto Carena all the way to the Grotta Azzura. (Moderate, 7 km)

Day 12

POMPEII
This morning, we ferry from Capri to Naples for a guided tour of Pompeii. (Light, sightseeing)

Day 13

ARRIVEDERCI ITALIA!
Interactive Trip Map
Click on the interactive map to see where we'll be hiking.
Select satellite view to get even more detail.
Photo Gallery
We have some great photos of previous tours of this location.
Click on the photo gallery link to view the gallery.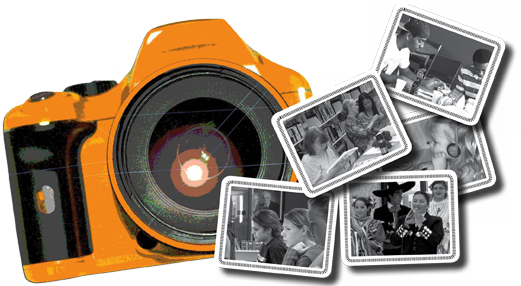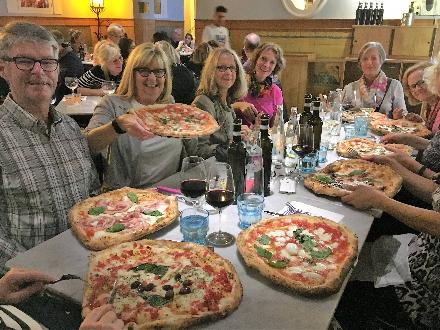 What an experience!
"Our 12 day Amalfi hike was amazing. Thank you Maddalena Molino and Comfortable Hiking Holidays. How lovely it was to be guided through the diverse, daily hikes along pathways and coastlines, through alleys and olive groves, up and down stairways and on chairlifts, to be educated about the area, to be whisked off to unforgettable meals, and to be given a day or two of leisure. (wasn't it all leisure?)."
Janet P. (Amalfi 2017)
"Thank you Maddalena! I loved the trip! I felt exceedingly well taken care of -- the accommodations and meals were outstanding, the hikes adventurous, varied and beautiful, and the arrangements all worked like clockwork.
It was all very special for me. I enjoyed your leadership and meeting the other folks who enjoy hiking and a healthy lifestyle. We had lots of laughs and fun too!"
Brenda K. (Amalfi 2016)
"I want to thank you for a glorious trip! The program was perfect -- hotels, hikes, food food food... Truly memorable. You showed us the best of your native country, and I've come home feeling completely rejuvenated!"
Margarita S. (Amalfi 2016)
Resume Booking
If you have already started booking this trip but haven't finished, enter your email address to resume booking.
Make a New Reservation
We're so glad you've decided to take a trip with us! We will do our very best to ensure you have a great time. Thank you for your business and we look forward to seeing you.
Please fill out the registration form below.
It is important that you read the Terms and Conditions before completing this form.
Note that this trip is currently full but you can complete the registration form to get your name on the waitlist.
Terms & Conditions
RESERVATIONS AND PAYMENTS
A non-refundable deposit is required at the time of booking (see individual trips for amount required for deposit). The balance is due 60 days prior to departure unless otherwise specified. Late payments causing penalties to be levied by the airlines or any other supplier shall be the responsibility of the traveller.
Please make cheques payable to COMFORTABLE HIKING HOLIDAYS. Credit cards payments are also accepted.
tico
Comfortable Hiking Holidays is a part of Vision 2000 Travel (Toronto) Inc., a Canadian Company registered under the Ontario Travel Industry Act, Registration No. 50023501.
CANCELLATIONS
All deposits are non refundable. After the balance has been paid, a refund can be made (less $50 per person and less any incurred charges by hotels, airlines etc.) if you can find a replacement person. If no replacement is found then all monies paid will be forfeited. No refund for any unused portion of a trip. All cancellations are only considered to have been received on the date of receipt of written cancellation in the office of Comfortable Hiking Holidays.
"GROUP AIRFARE"
Holidays can be booked with or without airfare.
"Land only" means that we take care of your accommodations, meals, ground transfers and hikes - just like we always have. However, the "land only" price does not include airfare.
"Group airfare" means that for some of the holidays, we have been able to negotiate reduced rates with the airlines for the group to travel together. This is often a more convenient approach since all arrangements are handled by Comfortable Hiking Holidays and you save by taking advantage of our special rates and do not have to pay for the flight until the balance of payment is due. Seats on group flights are limited and are on a first-come, first-served basis. Please note that when making a group booking for airfare, seat selection is not permitted. Airlines block off a section for the group as a whole and seats are assigned by the airline. Some of the airlines we work with include Aegean Airlines, Air Canada, Air France, Air New Zealand, Aer Lingus, Alitalia, American Airlines, Austrian Airlines, Icelandair, KLM, LAN, Lufthansa, Swissair, and Turkish Airlines. Note that should you first book the Group Airfare and then cancel to make alternative flight arrangements, there is a penalty of $100-$200 depending on the airline. It is not mandatory for you to purchase the group airfare; you can make your own flight arrangements. It is your responsibility to ensure that you coordinate your schedule to fit with the rest of the group's. You are welcome to take advantage of transfers between airports and hotels together with the rest of the group, again, provided that your schedule closely matches ours. In addition, we advise that you do not book your airfare until you check with Comfortable Hiking Holidays that we have the minimum number of participants to move ahead with the trip. Comfortable Hiking Holidays is not financially responsible for additional expenses incurred by you (such as non-refundable airline tickets) should a trip be cancelled.
TAXES
H.S.T.
The Harmonized Sales Tax will be added to all trips taking place in Canada.
AIR TAXES
Air taxes include passenger facility taxes, fuel surcharges, various federal and city taxes as well as security taxes and are correct and up to date at time of printing. The appropriate amounts are shown with each applicable tour and are subject to change by the airlines.
INSURANCE
Medical and cancellation insurance is STRONGLY RECOMMENDED and can be arranged through our offices. See the Reservation Form. If insurance is declined, a signed form will be required. Note that health insurance is mandatory for travel to Cuba; travellers must present proof of health insurance in order to enter the country.
TRAVEL DOCUMENTS AND HEALTH REQUIREMENTS
It is the traveller's responsibility to determine what documentation is necessary for each country to be visited. All Canadian and U.S. citizens require valid passports for travel. It is recommended and sometimes necessary that passports have a minimum of 6 months to expiry. Other nationalities should check with Comfortable Hiking Holidays. For more information on travel requirements per country, visit www.voyage.gc.ca and then click on the appropriate section under Travel Essentials and Before You Go.
It is imperative that the traveller discloses to the tour operator any medical condition(s) that may affect his/her ability to complete the hike and/or tour. Examples include (but are not limited to): allergies, ailments, diseases, medical conditions, special diets, medications and so forth. This information will be kept strictly confidential.
FOREIGN EXCHANGE
All prices quoted are in CANADIAN DOLLARS (except for the Dominica and Machu Picchu Holidays, which are quoted in USD). They were calculated based on the exchange rates in 2017 and are subject to change without notice. Should tour costs increase, Comfortable Hiking Holidays reserves the right to increase the price accordingly. If the price change is more than 7% of the total price for the travel services (except for a price change that is a result of Government Taxation), you are entitled to cancel if you wish, with full refund. You must notify us of your intention at least 48 hours after notification or if the change is a last minute change, within 24 hours of notification.
ACCOMMODATIONS
Prices quoted are for shared accommodations (two to a room unless otherwise agreed). A roommate (of the same sex) will be arranged when possible, otherwise the single supplement will apply. Single rooms are available on most holidays; cost for the single supplement is available on request.
PHOTOGRAPHS
The scenery is always picture-worthy so please take as many photos as you wish. We will do the same, but please note that it is customary for us to use photographs taken on actual hikes for our promotional materials. If you do not wish to have your photo used in any of our promotional materials, please inform your hike leader at the BEGINNING OF THE TRIP.
SMOKING
As the great majority of trip participants do not smoke, those who do are requested to refrain from smoking while with the group (e.g. on the bus, during the hikes, at meals, in the bar and in your room if sharing with a non-smoker).
CHILDREN
All participants must be at least 18 years of age.
SITE ACCURACY
Comfortable Hiking Holidays has attempted to make this site accurate. However, changes might occur for reasons beyond the control of Comfortable Hiking Holidays. In addition, the right is reserved to substitute hotels or change the itinerary when necessary, provided the travel facilities or other services are of at least the same standard or value.
HIKE LEADERS
All of our leaders are experienced hikers and have had first aid training. A representative of C.H.H. will accompany all of the trips (unless otherwise specified) to ensure they run smoothly and efficiently. Our hike leaders will be your guides on most holidays, but in some cases we will use local guides. C.H.H. reserves the right to make changes in hike leaders when necessary.
FORCE MAJEURE
We shall not be liable for any claims, losses damages, costs, expenses, delays or loss of enjoyment for any nature or kind whatsoever, resulting from events beyond our or a supplier's reasonable control, including but not limited to acts of God, strikes, lockouts or other labour disputes or disruptions, wars, blockades, insurrections, riots, earthquakes, weather conditions, floods or acts of restraints imposed by government authorities.
OPERATOR'S RESPONSIBILITY
Comfortable Hiking Holidays and Vision Travel the operators, its agents, and/or suppliers of services act only as agents for the traveler and accept no responsibility for services of any hotel, aircraft, vessel, train, motor coach or any other conveyance used in connection with these tours, nor any delays, loss or accident to travelers or baggage occasioned by such services, from whatsoever cause. In the event it becomes necessary due to changes by supplier's airlines, or for the comfort or well being of passengers, or for any other reason, to alter the itinerary or arrangements, such alterations may be made without penalty to the operator. The extra cost, if any, resulting therefore, shall be paid by the tour members. Conversely, refunds will be made to passengers if any savings are effected thereby. The right is reserved to cancel any tour and to decline to accept any person as a member of the tour, at any time. Acceptance of the initial service to be provided under the tour shall be considered an acceptance of all these conditions. There may be different living standards and practices and different standards and conditions with respect to the provision of utilities, services and accommodations outside Ontario. Climate conditions may affect the provisions of services and the accommodations included in our tours. Accommodations offered in the tour are, to the best of our knowledge, available at the time of printing and accurately described.
AIRLINE CLAUSE
The airlines concerned are not to be held responsible for any act, omissions or event during the time the passengers are not on board the aircraft. The Passenger Ticket in use by the airline(s) when issued constitutes the sole contract between the airline(s) and the purchase of the ticket and/or passenger.
Although every precaution is taken for your safety, this type of excursion involves, by its very nature, a certain amount of risk. All participants are therefore required to sign a form releasing Comfortable Hiking Holidays of all liability.